Here's a round-up of our last five product reviews: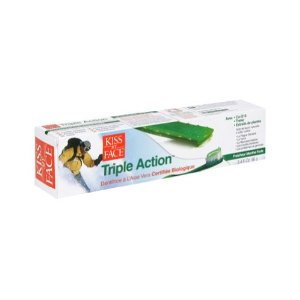 It can be hard to find toothpaste that does not contain sodium lauryl sulfate (SLS).  Most of Tom's of Maine toothpastes contain it, and for my family, this is an ingredient we avoid. Organic Triple Action Toothpaste by Kiss My Face is SLS-free and works to prevent plaque and tartar build up.
A breakthrough in the science of oral hygiene. Kiss My Face Triple Action Toothpaste uses soothing Certified Organic Aloe Vera combined with a powerful blend of carefully selected natural whiteners to create a truly exceptional toothpaste that still leaves your mouth feeling tingly fresh. Contains Certified Organic Aloe Vera, Silica (natural whitener), CO-Q10 (for healthy gums), Peppermint (natural flavor), Horse Chestnut (for healthy gums), Tea Tree Oil (cleansing and antiseptic), and Menthol (natural flavor)
Although this product has not been evaluated by the Environmental Working Group's (EWG) Skin Deep Database, older Kiss My Face toothpastes received relatively low hazard scores.