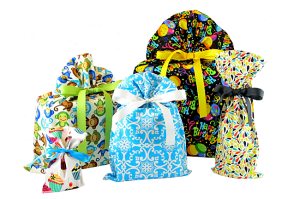 I hate wrapping presents.  I hate wasting the paper that will be torn away and discarded.  I can never get the corners write.  It's a waste of my time and a waste of resources. Paper gift bags have made gift wrapping easier, and we do reuse the ones that are given to us, but there is another solution.
My stepmother used to wrap a few gifts in fabric.  I have tried this method, but the scotch tape really doesn't stick, plus the scraps of fabric I guiltily keep thinking some day they will become part of a project, but they usually don't.
VZ Wraps are different.  Made from organic cotton with many cute designs, these reusable clot gift bags are sure to be kept and continue beyond one gifting.