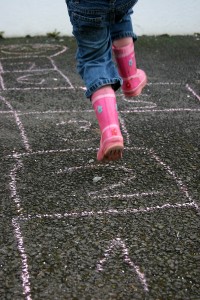 Fortunately neither of my children suffer from attention difficulties, but as a teacher I have worked with many students that do.   What typically happens in an American classroom where a child has trouble fitting into existing routines, the problem is seen as with the child and not the environment.  Typically these children receive a diagnosis of attention deficit disorder or attention deficit hyperactivity disorder (ADHD) and medication.  This is the wrong approach, especially when we look at France.
According to Psychology Today, "French children don't need medications to control their behavior."
In the United States, at least 9% of school-aged children have been diagnosed with ADHD, and are taking pharmaceutical medications. In France, the percentage of kids diagnosed and medicated for ADHD is less than .5%. How come the epidemic of ADHD—which has become firmly established in the United States—has almost completely passed over children in France?

Is ADHD a biological-neurological disorder? Surprisingly, the answer to this question depends on whether you live in France or in the United States. In the United States, child psychiatrists consider ADHD to be a biological disorder with biological causes. The preferred treatment is also biological–psycho stimulant medications such as Ritalin and Adderall.

French child psychiatrists, on the other hand, view ADHD as a medical condition that has psycho-social and situational causes. Instead of treating children's focusing and behavioral problems withdrugs, French doctors prefer to look for the underlying issue that is causing the child distress—not in the child's brain but in the child's social context. They then choose to treat the underlying social context problem with psychotherapy or family counseling. This is a very different way of seeing things from the American tendency to attribute all symptoms to a biological dysfunction such as a chemical imbalance in the child's brain.
{ 0 comments }