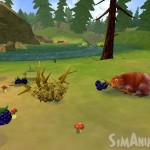 One of the most fascinating parts of being a Mommy Blogger is that you will always be challenged to defend your decisions. I'm okay with that.
There are no video games at my house, yet. My husband is dying for a Sony PlayStation 3 Blu-ray. Since he's the primary earner in the household, if we do end up with a gaming console, it's the most likely option. The kids want a Wii and I've already succumbed and bought one for my mother's house, but I've been comfortable with my decision to keep the house free of video game systems.
I took the kids to an EA/Nintendo party last week where the kids played a bunch of the new Nintendo releases. There's a pop star sing along that's cute and appropriate for most. (If you're very conservative in your dress, skip it.) And there are a whole bunch of Sim Games.